Classes & Workshops
Gate House Fiber Arts Studio Private Lessons and Workshop Fall /Winter 2016
2400 Faussett RD Howell MI 48855 - 810-923-1136
Tucked away at the back of our farm amid trees, birds and pastures you will find Gate House Fiber Arts Studio. We offer calm serenity for a true get away where you can focus on a new skill or explore an old one in more depth. Lessons/ Workshops can be arranged on your schedule to allow you the time to immerse yourself in your study. Need a break, take a walk out on 10 acres of paths thru the woods, and just breathe in nature. Our studio is stocked with all your fiber and weaving needs. Look at the variety of available classes and chose your direction. Having trouble with your spinning or weaving or need direction for a specific project give us a call.
Please keep an eye on the blog for last minute updates and new products. All Classes ate $25 per hour if booked individually. We have packages available, be sure to ask. Individual classes are available week days on Tues, Wed, Thurs & some Sat. Call for an appointment.
4 Harness Weaving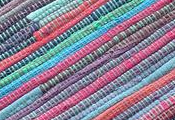 A chance to use one of our four harness looms to try your hand at floor loom weaving. Projects selected for your weaving skill level. (You also have input as we plan your class We have a few looms you can use for the weekend, please let me know in advance it you will need a floor loom.
Weaving Weekends are:
Class 1A: January 20 evening-Sunday January 22
Class 1B: February 24-26; Class 1C March 24-26
Workshop Cost $245 + materials. Bring your loom if you like. A $50 deposit needed as classes fill fast.
Tapestry Weaving: January 28-29th 10-4 both days , and March 18-19th 10-4 both days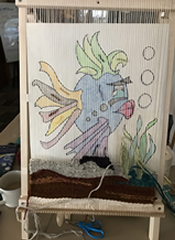 Intro thru Advanced. $175 plus materials.
Warp a frame loom, learn basic tapestry weaving techniques and color joins, advanced students will design their project and use advanced methods. Students should finish a project and learn basic finishing techniques. If you have your own loom or purchase one on the workshop weekend the course cost is $160. A $50 deposit is necessary as classes fill fast.
Inkle Loom Weaving: Saturday March 4th 10-4 - $85 + materials
Make narrow belts, ribbons and straps. Too many applications to list. A small portable loom with 100's of pattern possibilities. The Focus will be "How to Use Wool" . We have extra Inkle looms for you to use in the class.

Pin Loom Weaving: Saturday February 4th 10-4 - $85 plus materials
Explore the possibilities when weaving on pin looms. The class is structured for beginner-advanced. Create bookmarks, spinning oil bags, patchwork totes to wearable art. The sky is the limit. Learn how to integrate various size weavings for added interest. Pin Looms are available if you need one.
Tapestry Wednesdays: 2nd Wed. of each month 6-8pm
Spinning Wednesdays: 3rd Wed. of each month 6-8pm
Spinzilla Team
If you spin with us you can be on our team. TNNA sponsors this world wide spinning event. Louet NA sponsors Spinzila packs beginning in May. Over $125 worth of fiber for just $80 etc. These are restricted to our team members. Just go to Spinzilla.com/registration and sign up for Gate House Fiber Arts Spinners in September 2017. Your $10 fee goes to a good cause thru TNNA. Our team was 20th out of 75 and three of our members spun over a mile. Whew!